Automatic Tennis Ball Launcher For Pets
Automatic Tennis Ball Launcher For Pets
Got a bored pet? Or you just want them to have fun while you work on something else?
What does your dog really love? We're sure we can probably guess a few of the big things. Well, there's you, of course. And food, right? Oh, and a nice game of fetch has to rank pretty high up there!
Canines everywhere love running about the place, retrieving something you've thrown for them. They love it so much that they don't even get frustrated or annoyed when you immediately throw it away again…
All dog owners are pretty familiar with the routine. And it can be fun for both parties. But all that ball chucking can also be more than a little tiring on the arms sometimes, can't it?
If only there was a solution to the problem, huh? Well, there is! They're called Automatic Tennis Ball Launcher for Pets. A fantastic modern toy for dogs as these simple toy can bring hours of incredible entertainment for both dog and owner alike.
Features
Performance: Dog Ball Launcher has 3 distance settings, easy to switch or select the "random" setting to keep your dog's mind alert and enjoyment

Dog-Safe Balls: Ball Launcher come with 3 mini balls; About 2 inches in diameter; They are felted like tennis balls, Non-Toxic, Non-Abrasive felt won't wear down dog's teeth

2 Power Supply: Automatic Ball Thrower can work with an AC adapter ( included ) or with 6 pcs C batteries ( NOT INCLUDED ); This Ball Throwing Machine can be used both indoors and outside to entertain and exercise your dogs
Dog Safety Design: The top of the Ball Thrower (where your dog drops the ball) is tilted to encourage your dog to stand behind the fetch machine when the ball launches, for safety purposes
Recommended For: Suitable for small or mid-size dogs not recommended for large dogs; Great for training with a treat compartment built-in for your convenience.
Automatic dog ball throwers might sound a little weird, but when you think about it – it makes perfect sense.

Automatic dog ball thrower machines are not just for the lazy dog walkers out there.

If you struggle to throw due to ill health, injury or old age or you're just a lousy thrower of tennis balls, these things can step in for you!
So these handy little gizmos ease the burden and provide your doggy pal with hours of fun.

They're not just for you and your dog to enjoy together. You can load these gadgets up and leave them on outside in the backyard for your dog to enjoy while you're out too.

Your dog will thank you for it (in their own unique way).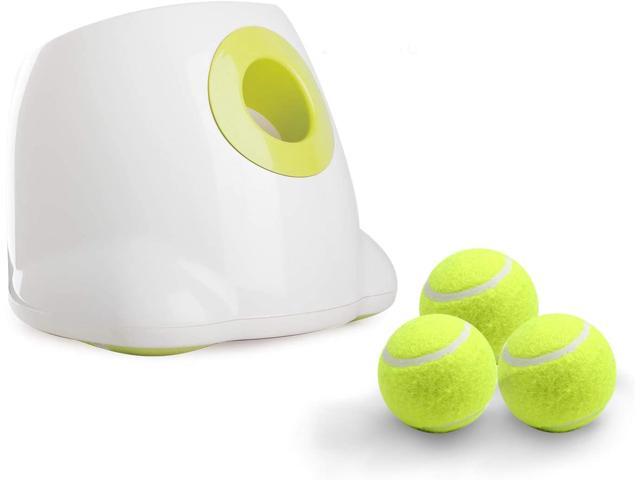 Package Included
1 x Ball Launcher

3 x Balls (Diameter: 2inches)

1 x AC power cord plug

1 x Instruction Manual