Baby Fetal Doppler - Heartbeat Rate Monitor With Lcd Display And Speaker
Baby Fetal Doppler - Heartbeat Rate Monitor With Lcd Display And Speaker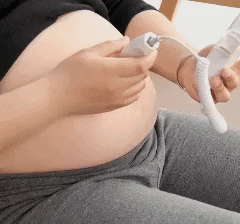 Our premium Taiji Baby Fetal Doppler uses the latest technology in baby heart monitoring.
This amazing device allows any soon-to-be mom or health care professional to hear their baby's heartbeat with ease and clarity.
The back-lit LCD display shows the baby's heartbeat making it even easier to detect, and an audible sound is heard in real-time from the high-quality built-in speaker.
You can use this device from the comfort of your home, allowing you to check in with your baby in between appointments.
Features And Benefits:
Clear Fetal Heartbeat Sound: High performance clear fetal heartbeat sound.
LCD Display: Multi-parameter working mode, fetal heartbeat rate display, clear FHR (Fetal Heart Rate) display.
Built-In Speaker: Share your happiest moment with other loved ones.
High Sensitivity Probe: Medical grade, high sensitivity waterproof probe, no radiation to detect, low ultrasound power.
Compatible With Both Earphone And Speaker: Perfect for listening and recording your unborn baby's heartbeat when the baby is 12 weeks and above.
Lightweight And Easy To Carry: You can share your joy with your lover, families, and friends, whether you are at home or out.
How To Use:
1. Before using the device for the first time, make sure 2 batteries are in.
2. Press the power button to power on, then adjust the volume.
3. Lie flat with a cushion pillow, keep legs straight and relax.
4. Attach the fetal probe to the abdomen to locate the fetus's position and find out the best direction to the fetal heart.
5. After hearing regular fetal heart sound, the FHR value will display on the screen in real-time.
Package Include: