Nursing Breastfeeding Baby Pillow
Ergonomically Supports You While Nursing Or Bottle Feeding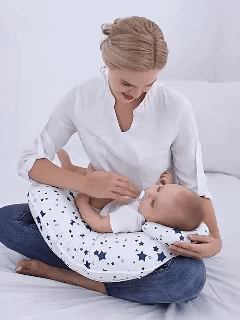 Support for you and baby. BabyCare™ Nursing Breastfeeding Baby Pillow ergonomically supports you while nursing or bottle-feeding.
Versatile To Grow And Support Baby During Supervised Awake Time Through First Year Milestones:
Feeding (0+ months)
Propping (3+ months)
Tummy Time (6+ months)
Sitting (9+ months)
BabyCare™ is designed with your comfort in mind. So, get comfortable.
BabyCare™ is small enough to fit in a rocking chair while nursing or bottle-feeding, but large enough to give the lift you and baby need.
You can place the pillow around your front or side waist to get the best support for your feeding style: cradle, cross-cradle, football hold, or bottle feeding.
BabyCare™ comes with a removable, breathable pillow cover with an easy-on-covered zipper design. The pillow and the pillow cover are machine washable.
Nursing, propping, tummy time, sitting – BabyCare™ gives awake-time support throughout the baby's first year.
BabyCare™ is a multi-functional product for your baby and you. You can make a support cushion for yourself during your pregnancy.